What an outstanding day, today! It's hard to beat a sunny, warm fall day in our part of the world. It started with my favourite soccer team winning its game. AS Roma in Italy's Serie A is undefeated so far this season… one of its best starts ever. They beat the arch-enemy, crosstown rival Lazio in the Roma derby… even better.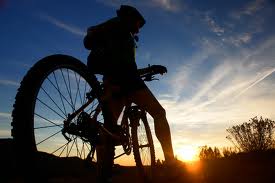 After getting some chores done around the house, I hit the road for a ride on my mountain bike… an oxymoron in our part of the world, really.
Today was to be a long ride, with an intense first part. I've been incorporating a high intensity interval training (HIIT) component to my workouts lately and today was one. After a light warm-up it was 20 minutes of sprinting intervals. I use a heart rate monitor with a GPS and fancy timer to monitor the proceedings.
Once that part of the workout was done, I hit a long trail that used to be a railway bed for another 50 minutes or so. Moving along at a good clip, riding solo in nature gets the mind working. Great thinking time.
Today, the dominant thought happened to be gratitude. It was about being thankful for living in a country where you can enjoy activities like this. It was thinking about having a terrific family at home and the nice dinner I was going to enjoy with them tonight.
Thoughts wrapped around the recent successes my wife and I have had in our business… and the bigger and better successes yet to come.
Once I reached the turnaround point, I realised why the ride had been so enjoyable to that point. Heading back home, I was riding into a 40 KPH headwind. Now that gets the heart rate going. But this time instead of grumbling all the way home as I have in the past, today was different.
In our part of the world… flat as a pancake… the wind is our mountains. Where mountains make you work hard and burn your legs, so does the wind. So the entire ride home was done as a simulation of a ride up a mountainside in the Rockies, sans the view.
I arrived home whipped but happy. I'd enjoyed a great workout, benefitted from two hours of riding at 85% of my maximum heart rate, lots of fresh air… the whole time immersed in positive thoughts.
In my books, that was 54.7 kilometres of anti-aging gratitude!