Five birds are sitting on a telephone wire. Two decide to fly across town. How many are left?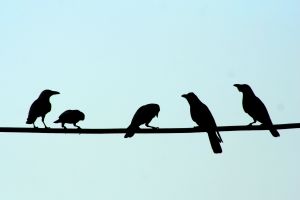 Most people would say three. Actually, all five are left. Two decided to fly away but actually didn't get around to doing it. Deciding isn't the same as doing.
How often has that happened in your life? You decide you will take action to improve some aspect of your life… lose weight, change a job, improve a relationship… but you just never get around to doing it.
I don't think anyone is immune to the intention of positive action followed by the reality of inaction. It certainly has plagued me throughout my life.
What does it take to make the plunge to do those things that can really impact your life? How can we overcome Resistance, that arch-enemy so well identified by Steven Pressfield?
Recently, my kids wanted to watch Rocky. Out came the DVD and we saw Sylvester Stallone at his finest.
'The' moment for Rocky… the beginning of the dramatic change in his life… was him leaning on the fridge door at 4AM cracking and downing raw eggs, then heading out into the cold of the morning for a run.
Rocky not only decided to take action, he actually did it. Despite the ungodly hour and his lack of fitness, he started the journey to change his life.
What have you decided to do over the past year that hasn't materialised quite as you'd hoped? What could be your 'moment' that would tip you on the way to accomplishing this potentially life-changing goal?
I have a few… well, several really. I recently started one… dove into the deep end and am on my way to accomplishing something elusive that should have been done years ago. Better late than never.
What is going to be your glass of raw eggs that will kick-start your life changer?