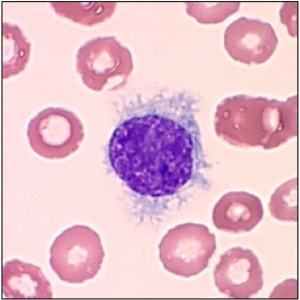 Must be anemia. I always have lots of cardio in the tank for playing soccer. But starting in Fall 2012, the tank was empty after each shift with my indoor team. What's going on here?
An annual physical in December produced some poor results in my blood work. Low levels of white blood cells, red blood cells, platelets, hemoglobin. Maybe iron tablets would improve the numbers and my energy level.
Blood work every two weeks for a month didn't show much improvement. Then I was sick as a dog…right around the time my family physician had me visit a hematologist. It didn't take him long to get to the point. His predicted double diagnosis: pneumonia and leukemia.
A chest x-ray confirmed the pneumonia. A bone marrow biopsy confirmed the leukemia, but with an unbelievably fortuitous twist. I have a rare type of leukemia called Hairy Cell Leukemia (HCL). HCL, so I was to learn, is rare, incurable, non-life threatening, and easily treatable.
So here I sit today. My prospects are incredibly favourable when compared to almost anyone with cancer. A very mild chemo treatment with no hair loss, no fried insides, and no lost work time. A high probability of a ten to twenty year remission, even longer. The expectation of a long, normal life.
How the hell did this happen to me? How does someone who is highly health-conscious… someone who has lived by so many habits for so many years to avoid this very diagnosis… end up with leukemia? Why is it that so many middle-aged, overweight smokers will never receive news from their doctor that they have the Big C?
I don't know the answer to this. I don't know that there are many people who could tell me why my DNA decided to mutate and mess with my blood. All I know is that I fully intend to continue to pursue a healthy lifestyle and continually improving on it to ensure I am around for a long time.