Walk into any nutritional supplements retailer … Wal-Mart, GNC, or another health food store… and you are confronted with a mind-boggling array of labels from which to choose.
How do you decide what to buy? Which supplement will give you the best bang for the buck in terms of quality nutrition?
Lyle MacWilliam and his NutriSearch Comparative Guide to Nutritional Supplements are your answer.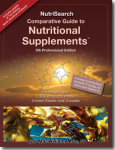 Now in its Fourth Edition, this is a compendium of over 1,500 products available in the United States and Canada.
The Comparative Guide is divided into six sections. The first two sections provide detailed commentary on the value of nutritional supplements and their importance to overall health in today's world.
MacWilliam's scientific background as a biochemist is put to the test here. He succeeds in presenting well-supported scientific facts in an easy-to-read format.
The educational content of the first two sections is great value in and of itself.
The third section provides an explanation of how the product analysis was carried out and product scores are determined. MacWilliam has used the input of 12 different nutritional authorities (including Earl Mindell, Dr. Richard Passwater, and Dr. Nicholas Perricone) in establishing his scoring criteria, called the Blended Standard.
The final two sections dive into detailed analysis of over 1,500 brands of nutritional supplements.
Section V depicts all products rated 3-stars or higher (out of a five-star maximum) in graphical form, comparing them to the Blended Standard.
The book culminates with Section VI, almost 100 pages of in-depth analysis of multi-vitamin products. These lists score the products and are sorted both alphabetically and by score, from highest to lowest.
Some of the results will likely shock you. For instance, some of the best-known brand names have astonishingly poor scores. Both 'Centrum Silver' and 'One-a Day 50+' score 0.5 out of 5.0!
If you want to bump up your knowledge on nutritional supplements and ensure your money is well spent on your nutritional supplements of choice, the Comparative Guide is a must for your bookshelf.